Trends
Relevant trends
Our value-creating objective takes account of six major trends that are already clear or which are expected to manifest themselves in the short term. These are relevant trends which affect the car parking market and Q-Park in particular. Central to this is that we remain clearly focused on our customers' needs. Here, we discuss both the opportunities arising from and threats to our market position.
Digitisation
Electronic payments: cash payments are being replaced by electronic payments made via card or mobile phone. We already offer various electronic payment options. The disadvantage of this trend for Q-Park is that such payment solutions differ substantially per country. There are considerable differences between the systems and regulatory frameworks in various the countries, which involves risks for us. Moreover, the first innovative payment solutions have already been superseded, and as a result, any investments in ICT or infrastructure made specifically for these are now nullified. The expectation is that the payment market will become dominated by a few large players. The introduction of the Single Euro Payments Area (SEPA) is crucial to maintaining a free payment market. Q-Park processes millions of payment transactions each year, and has more freedom in a free market to choose partners and to invest internationally in durable systems.
Digital enforcement: larger cities are introducing systems to deal with parking enforcement digitally. Number plate recognition is already being used for entering and exiting parking facilities. This results in a shift from pre-payment to post-payment. This also means that local authorities can make savings on their enforcement costs. On-street parking is becoming simpler for motorists and is therefore becoming a larger competitor to car parks. Q-Park's response to this is to introduce more attractive parking tariffs based on time/euro. Moreover, we are making it possible to pay by debit card at the exit barrier and our enforcement services are now digital.
Up-to-date information: more and more information is becoming available to direct motorists to an empty parking space. Local initiatives will be integrated into nationwide information systems. In the near future, this will only be applicable to car parks. We are at the forefront of these developments and already provide our information via such systems. 
Online services for customers: reserving and paying for a parking space online, buying a parking season ticket, electronic invoices and payment options, a personal web page, targeted promotions in cooperation with partners (hotels, events, shopping centres). Such online services are essential for the future of the parking market. Q-Park is developing a digital platform to offer all these services, and to gain greater knowledge about the customer. This will enable us to tune our services even more accurately to their needs.
Urbanisation
In 2050, 70 per cent of the world's population will live in cities, compared to 50 per cent now1. Pressure on existing facilities and infrastructure is increasing. It is the expanding older generation who can still afford to live in the big city and who own a car, so the number of cars will continue to increase in the coming years. As a consequence, municipal authorities are being challenged to come up with innovative, flexible and affordable solutions for more efficient infrastructure and urban development.
More tasks with fewer resources for local authorities
In all countries where we are active, central government is passing costs on to municipalities, who have to deliver more services with fewer resources, including parking services. A natural reaction will be to increase parking tariffs, which in turn, will drive up the cost of parking everywhere. Municipalities will also want to move from free on-street parking to more on-street paid parking spaces. This also offers opportunities for Q-Park because cities are already utilising every inch of limited public space. For this reason, Q-Park is calling for parking spaces belonging to offices, hospitals and the like, to be made available to the public outside office hours and for car parks to be made accessible outside peak hours to those living in the neighbourhood who hold parking permits. We can facilitate these developments with specific services.
Sustainable developments in inner cities
The larger cities in particular are starting to focus on sustainability, which will have an influence on car usage and parking. Cars will be excluded from the urban environment, polluting cars refused access or taxed more heavily. There will be an increase in pedestrian zones with the resulting need for underground parking facilities or facilities outside the centre. This corresponds fully to our vision of sustainable mobility. But implementing sustainability in the streets is proceeding slowly because parking revenues are a welcome supplement to municipalities' budgets.
Shopping experience
Shopping is increasingly becoming a day out, a special experience. We are seeing the need for parking facilities shift to large cities, which have an attractive offering. Purchasing online means that people go shopping less often and then only there where shopping is still really enjoyable. The best locations are becoming increasingly attractive, less appealing locations are decreasing in popularity. Through our location policy, we will concentrate on the best locations and making these accessible to our customers.
Car ownership and car usage
Car sharing: the number of new car sales has decreased substantially in recent years. Sales only increased marginally in 20142. This trend is directly linked to the economic crisis of the last five years. In addition, a new social trend has a role to play. Car sharing is gaining in popularity, especially among younger people. Car ownership is clearly declining in this group. The largest decrease can be observed among young adults under 26. Young people live in cities and have less need for a car. There are sufficient good alternatives such as public transport or cycling. Many young people see owning a car as less of a status symbol than their parents do. The older generation is still attached to owning their own vehicle. Given the fact that the ageing population has not yet peaked, the number of cars will still continue to increase over the coming years.
Electric cars: in some countries we are seeing an increase in the number of electric cars. There are still constraints to really sharp growth: battery technology and market acceptance. Despite some governments' fiscal incentive polices, consumers have not yet embraced the electric car on a large scale. Governments are now withdrawing fiscal advantages, so acceptance will decrease even further. The future of battery and charging technology is uncertain. The introduction of fast charging (within 15 minutes) requires considerable investments in the electrical installation and security measures. Provision of slower charging during parking (2 hours) is cheaper, because less expensive charging points can be connected to the existing electricity grid. In the meantime, we offer 434 charging points at Q-Park facilities, this enables us to meet our customers slowly growing charging requirements.
Self-driving cars: in the medium to longer term, self-driving cars may form a disruptive trend. We anticipate the first commercial applications by as early as 2018, while the first autonomous motorway is expected in 2025. This will really take off somewhere around 2030, and will culminate in a completely self-driving ecosystem by 2040. We are keeping close track of these developments, because we anticipate that our facilities can form an essential and practical part of this system of the future.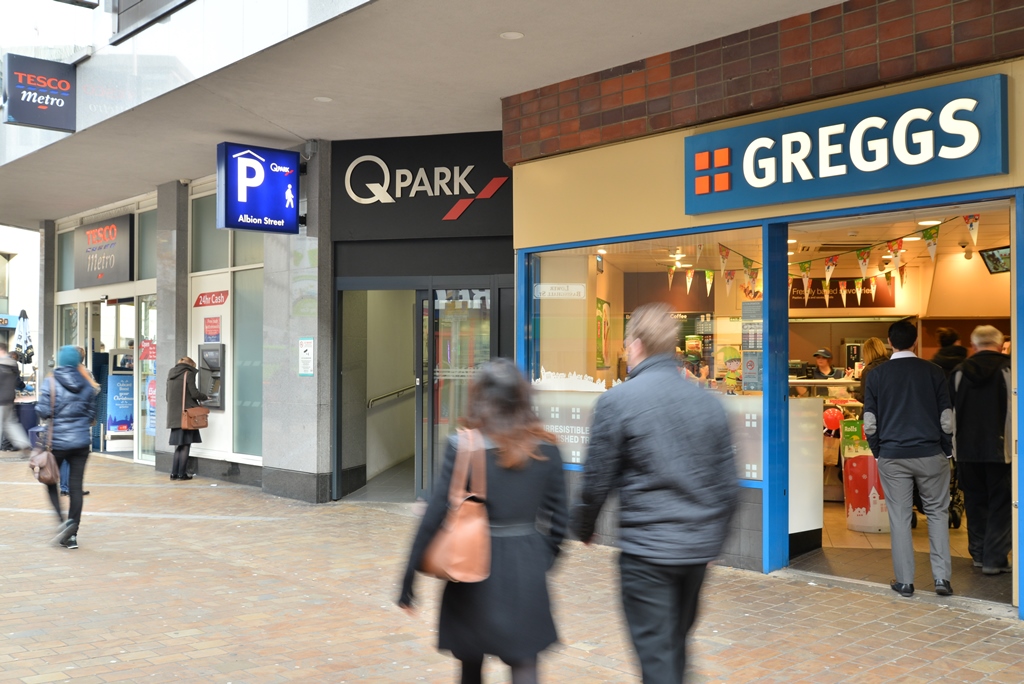 Source: Kenniscentrum Onderwijs en Opvoeding, (Research centre attached to Amsterdam University of Applied Sciences), 18 February 2015.

Source: Mobility in Figures, 2014-2015.