In dialogue with stakeholders
Dialogue with stakeholders was conducted concerning the strategy and targets set. We receive positive as well as negative feedback from our contacts with stakeholders. Sometimes this leads to dilemmas which we then discuss in more detail or we seek solutions together.
Shareholders
Some shareholders expect us to complete the GRESB annually. In cooperation with a large group institutional investors, GRESB gathers information about sustainable performance of real estate companies and property funds. In addition to energy and emissions, water is also one of their key indicators. GRESB wants information about water consumption, measures to save water and water policy. With its parking facilities, Q-Park is not readily comparable to other investment property companies. The outcome of the materiality analysis also indicated that water is not a relevant issue for Q-Park. Nevertheless, we have decided to include this topic in our questionnaire completed by the countries.
Customers
From our customer satisfaction surveys it transpires that safety is very important to our customers; safety is in third place when it comes to the choice of a car park1. Q-Park has incorporated safety in its policy, it is also part of our quality promise. In our facilities, we take a range of safety measures such as good lighting, wide and clear vehicle lanes, short walking routes to pedestrian exits, and the presence of parking hosts where necessary.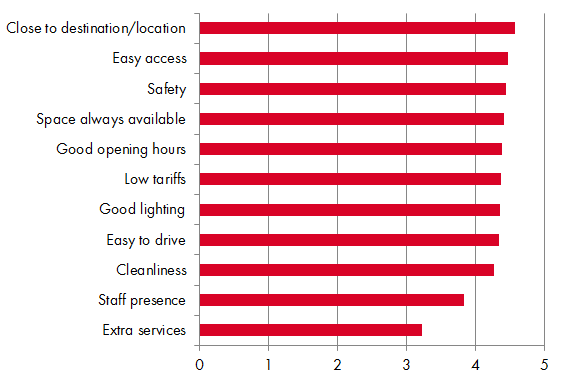 Employees
Our materiality analysis showed that our stakeholders consider education and training for our employees to be very important. We ensure that the education and training we offer our employees is in line with our policy, which is why we offer our training courses particularly in the areas of (personal) safety, conflict management and pricing strategy. We endeavour to provide such employee training in all countries on a regular basis.
Business partners
For the sake of the safety of our customers and employees we have installed CCTV systems in our parking facilities. Additionally, we have installed number plate recognition in some car parks for operational reasons. We usually apply number plate recognition to speed up our service to existing or known customers. For example for season ticket holders or customers who have booked online. When the customer drives up to the barrier, the car number plate is recognised and the barrier opens automatically. But number plate recognition presents two dilemmas:
Number plate recognition still has a high margin of error which means that a second identification method is needed. Number plate recognition is therefore often an extra investment, which, for the time being is not being recouped.
Number plate recognition, as well as the use of CCTV, means recording customer data. This involves all manner of privacy issues which require utmost care and which are subject to ever-changing legislation.
Municipalities and regions
In collaboration with Maastricht Bereikbaar (Making Maastricht Accessible) we applied a guiding pricing policy to improve the balance between supply and demand, to influence motorists, and to improve the accessibility of Maastricht. Parking tariffs are most expensive in the city centre and at the outskirts of the city they are the lowest.
It is now possible to reserve a parking space at the outskirts. For this we have made good use of the grant made available by the city of Maastricht. It was a technical challenge to get the reservation system working on time, both online and at the car park itself. Thanks to the good teamwork of all parties involved we have produced an excellent solution.
Governments, politics and society as a whole
France has provided us with a good example of collaborative approach. There, a special tariff was introduced for people who only occiasionally use their car (parking tariff 'petit rouleur'). Grants are given for not using the car and leaving it in the car park. If someone uses the car less than fifteen times, the season ticket holder gets a discount.
In the Netherlands, the tax authorities recently requested parking companies to provide vehicle registration number data for the past year. The tax authorities wanted to compare vehicle registration numbers with applications for tax exemptions based on 'no private use' or 'business use only' declarations for delivery vans. We did not release any customer information to the tax authorities. It is very important to treat customer data with the utmost care and to safeguard the privacy of our customers closely. This strengthens mutual trust and provides insight into each other's expectations regarding our services. We therefore follow the OECD Guidelines which clearly call for respect of customer privacy and for measures to ensure the security of personal information processed. We adhere to specific rules and regulations regarding data protection and privacy.
Dealing with stakeholders' concerns
We take questions and concerns raised by our stakeholders into careful consideration. The QCR uses the following processes to ensure these are dealt with appropriately.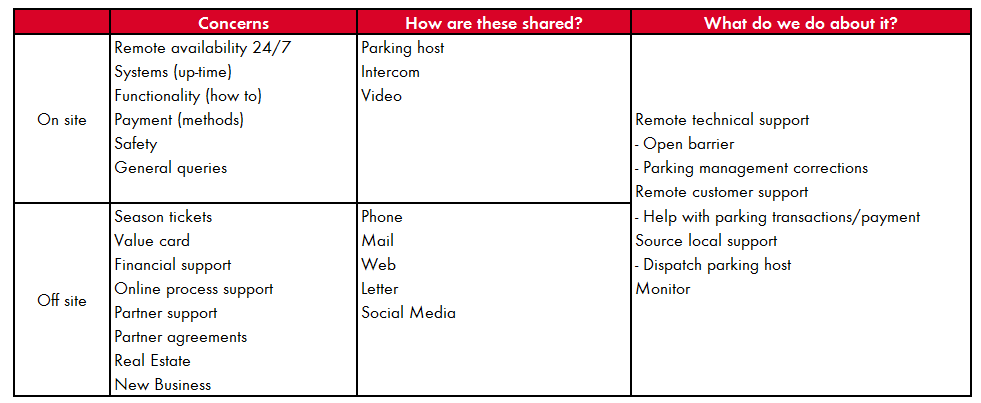 New corporate website
In order to strengthen the dialogue with stakeholders, in 2014 we developed a new corporate website. The design automatically adjusts to the format of different devices which means that the site is always legible. We offer a wide range of background information about Q-Park, about parking solutions and services realised, and about our vision on paid parking. We also offer an extensive selection of publications relevant to our discipline. Interested parties can easily contact us or request information.
Via our corporate website or the country websites, stakeholders can ask their questions, make a complaint, or give other feedback.
International Customer Satisfaction Survey 2014