Society
Objective
Improve customer and employee engagement and contribute to their health and safety.
What we want to achieve
Q-Park promotes the health and safety of customers and employees. The main ways in which we achieve this is by training our employees and equipping them for their work, and by creating a safe and healthy working environment. From customer research it transpires that of the many services we provide, the presence of restrooms, and AEDs are the most appreciated. That is why we certainly want to offer these services in our owned and long-leased facilities. We also offer our employees the opportunity to learn life-saving skills, so that they can help someone both at home and at work.
Every year we receive millions visitors in our parking facilities at all times of the day. Unfortunately, it is possible that our employees will encounter inappropriate or aggressive behaviour. We offer parking hosts a training course so they can learn to deal with such situations. In addition, as part of our traffic safety promotion, we work together with driving schools to help teach learner drivers how to manoeuvre when parking.
Employees trained in conflict management

550

1

(2013: 618)

Collaboration

with driving schools

43

(2013: 28)

Employees trained in resuscitation

588

(2013: 419)
What we have achieved
Customer safety
The number of employees we trained in resilience to aggression and violence decreased to 550. This is mainly because we no longer have parking hosts in every parking facility, but that our hosts work increasingly in mobile teams and with the QCR.
Q-Park uses CCTV, closed circuit television, in many parking facilities. We do this because we want to increase the feeling of customer safety. Fortunately, vehicles parked with us are seldom involved in theft or vandalism. But when this happens, customers appreciate that we can provide evidence if requested by the police or insurance company. Capturing images and storing data affects the privacy of our customers. It is crucial that Q-Park is vigilant when it comes to protecting this data. Because CCTV can record activities conducted by an individual, the use of such images is regulated by law. Data is stored securely at a location to which only a few people within the organisation have access. Data is only kept as long as necessary and for no longer than 30 days.
Traffic safety
We have intensified our collaboration with driving schools. France now also has a number of driving schools which give lessons in our parking facilities. Q-Park Ireland has become a partner of the Irish School of Motoring (ISM) and Q-Park Great Britain of the DIA (Driver Instructors Association), the largest driving schools association. In a few parking facilities, Q-Park makes the upper floors available as a practice location. Q-Park and the DIA will also work together in road safety campaigns.
Together with Børneulykkesfonden (a foundation for prevention of road accidents involving children), Q-Park Denmark organises a campaign to ensure that children are clearly visible to traffic in winter.
In Great Britain we sponsored Brake, a charity that works to prevent traffic accidents. Customers who reserved a parking space in advance, received 10 per cent discount. Part of the revenue was donated to Brake.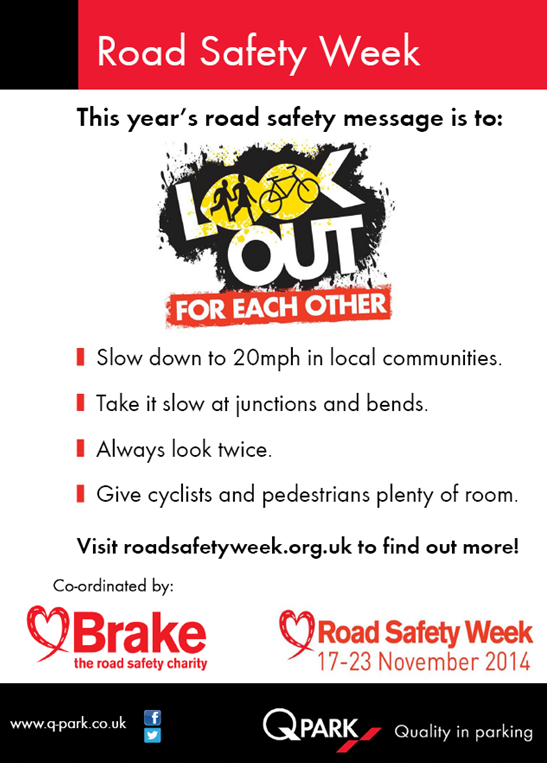 In 2014 we spent a total of EUR 300,707 on social projects.
Cooperation with hospitals
Q-Park Ireland donated EUR 5,000 to the Temple  Street Children's Hospital in Dublin and EUR 8,000 to the Mercy Hospital in Cork thanks to a partnership between the hospital and Q-Park. The joint venture means that hospital employees and visitors to patients can park for a maximum of 24 hours for only EUR 6. For each transaction, Q-Park donates EUR 1 to the hospital. In addition, Q-Park Ireland was awarded a Mercy Star by the Mercy Hospital for the 'Best Collective Partnership 2014'.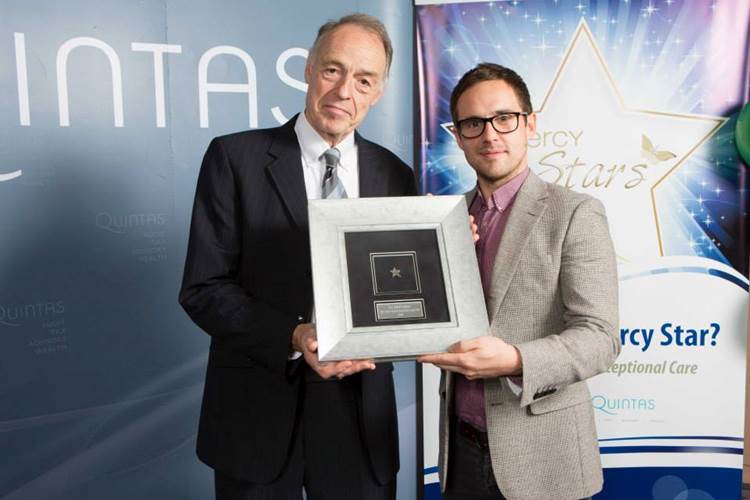 Welfare
From recurring customer satisfaction surveys it transpires that our motorists appreciate the presence restrooms and AEDs the most. Customers consider the availability of an alcohol tester or shoe-cleaning machine in our parking facilities less important. Interestingly, information screens and water dispensing points have gained in popularity compared to jump leads.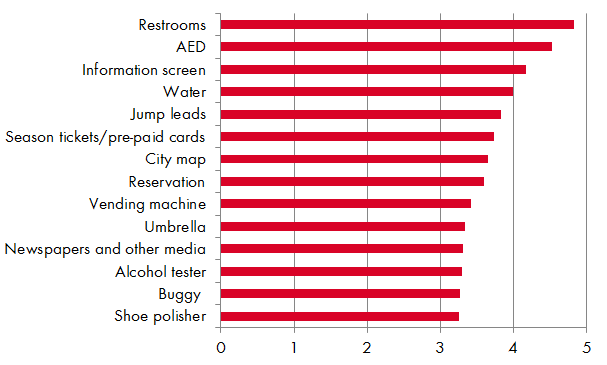 The number of restrooms and signs to these remained constant, as did the availability of AEDs. However, the number of employees who followed a CPR training course rose from 419 to 588. With these training courses we ensure that our employees are well equipped to offer help in the event of a problem.
A number in red indicates a negative trend.