Environment
Objective
Improve the environmental performance of our parking facilities, fleet, and offices, and influence the environmental performance of our major business contacts in the value chain.
What we want to achieve
Energy Saving Programme
Q-Park is a major consumer of electricity, for lighting and charging electric cars as well as for other equipment.
In 2009 we launched an energy saving programme to raise awareness and take measures to reduce our energy consumption and CO2 footprint. We express that in terms of the CO2 emissions per parking space in owned or long-leased facilities.
Under the auspices of the energy saving programme we initiated a project in 2012 to optimise existing lighting installations and control systems. This means we can reduce our energy consumption and CO2 footprint. The Corporate Real Estate & Facilities Management department supports the country organisations in their efforts to achieve the agreed reduction targets. At a central level we analyse and assess market solutions related to lighting levels, energy consumption and financial feasibility. We apply the following technical solutions:
Installing daylight and movement detectors or optimising these in combination with dimming lighting installations or switching them off.
Replacing conventional light sources with induction or retrofit LED products.
Replacing conventional light fittings with high frequency T8, T5 or LED products.
This optimises energy consumption from lighting systems in newly built and renovated parking facilities. The economic criterion is that any investments in new technologies, such as LEDs, are recouped in less than five years.
Creating awareness is a key success factor. As part of the training programme which we have developed for our operational employees, we have drawn up guidelines to raise awareness of energy consumption among our employees. We actively encourage closing a parking zone and (partially) switching off lighting if the utilisation of the car park permits this.
Sustainable passenger cars
In our parking facilities we encourage the use of sustainable passenger car by installing recharging points for electric and hybrid vehicles. We also offer reserved spaces for customers participating in shared vehicle initiatives.
In our operating activities we are committed to:
cleaner vehicles in our fleet;
more travel by public transport;
fewer journeys by plane.
By making use of modern communications technology we can avoid unnecessary travel.
BREEAM
In addition to our own sustainability programmes, we also contribute to the development of the BREEAM In Use standard for car parks. This should be ready in 2017.
634

parking spaces for shared cars (2013: 353)
Reduced energy consumption savings

CO2 in kg/per parking space owned or long-leased

151

(2013: 162)
What we have achieved
Energy savings
The energy saving programme has clear effects, in financial terms as well as in our environmental impact. We want to procure our energy on a larger scale by means of a central purchasing policy. Furthermore, we consume less energy due to energy-saving measures such as LED lighting and dimming technology. From 2012 to 2014 we have saved EUR 934,503 with these measures and we are almost half way to achieving our target for 2016. The savings compared to 2013 amounted to EUR 460,043. Our energy consumption reduced from 445,000 (GJ) to 425,307 (GJ). Expressed in kWh per parking space in owned and long-leased facilities, this comes out at 546 kWh (2013: 582 kWh), which means we are well on target.
CO2 performance
In addition to energy saving measures for lighting, we are also exploring opportunities for optimising the operation of lifts and ventilation systems. This is another area in which we can reduce our energy consumption and CO2 footprint.
Since the division into regions and the introduction of videoconferencing the number of long flights has dropped dramatically. We have introduced Lync to support our internal collaboration. Our average CO2 footprint per parking space in owned or long-leased facilities decreased from 162 kg in 2013 to 151 kg in 2014.
Scope 1: emissions arising within the organisation rose from 3,190 tCO2 to 3,545 tCO2 due to the number of cars in our in our fleet, but also because we consumed more gas.
Scope 2: emissions arising outside the organisation decreased from 30,666 TCO2 to 28,591 TCO2 due to reduced electricity consumption.
Scope 3: other emissions increased from 159 TCO2 to 170 TCO2. This was mainly due to more short flights and train journeys.
More spaces for electric cars and shared cars
We observe considerable growth in the number of parking spaces allocated to shared cars even though this remains a small portion of the total number of parking spaces we manage. The number of parking spaces with charging points has also risen again. For these two PIs we have formulated an overall target as we are following the trends which differ per country. The Nordic countries, the Netherlands and Great Britain are the trendsetters.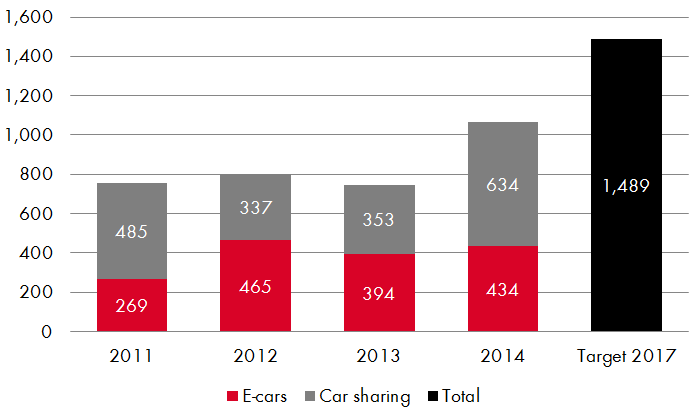 Q-Park fleet more sustainable
The number of efficient and clean vehicles in Q-Park's own fleet increased again by 26 to a total of 130. The average kg CO2 emissions per vehicle remained unchanged.
Electric cars: from 30 to 39
Hybrid cars: from 68 to 83
LPG: from 2 to 6
Bio-diesel: from 4 to 2