Innovation
Digital services
Digital services are here to stay in our sector. Internet technology, electronic payments and apps enable us to adjust our services to what customers now want. We already offer online reservations, paying for season tickets, and paying at the exit with a debit card. When the customer drives up to the barrier, the car number plate is recognised and the barrier opens automatically. This system was initially introduced in Denmark. There, we have also developed electronic platform whereby it is possible to enter and exit a car park based on the number plate or RFID (Mifare).
In 2014, Q-Park had a first in the Netherlands and Belgium: customers can now use their Maestro debit card to pay at the exit without entering their PIN.
Online reservations
In Ireland (ParkMagic) and in France (Resa) our customers can book a parking space online in the car park of their choice. The web application Q-Park Resa even won the bronze medal at the Retail Network Awards. Norway offers business partners the option of logging in to our web module and using this to generate parking permits for their customers.
My Q-Park
In some countries, customers can create their own My Q-Park page on the website where they can maintain their own data and preferences. In Great Britain, we link this to a loyalty programme, for which we introduced the Loyalty App. Customers can scan their parking ticket with this app. When a customer has parked five times, the sixth visit to a Q-Park car park is free.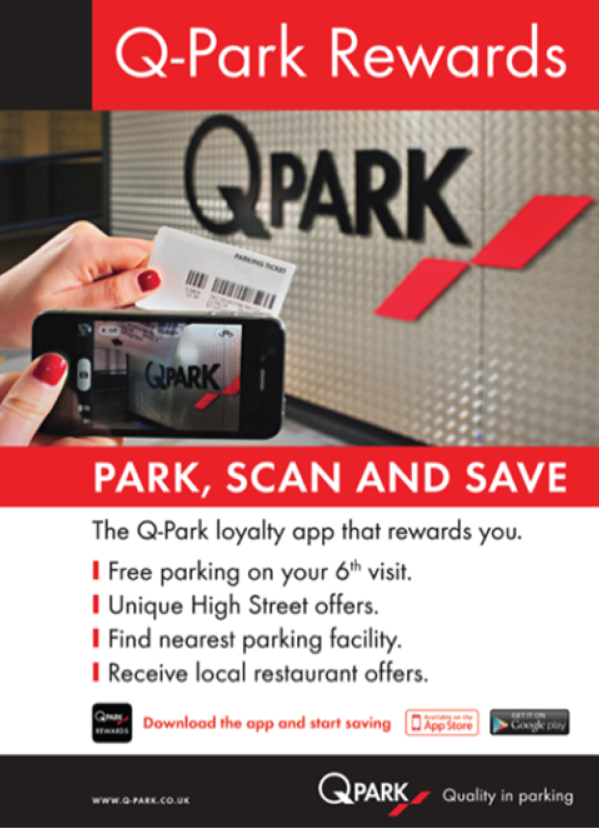 Route information systems
Also in the car, digital services offer additional opportunities to guide motorists to a vacant Q-Park parking space. In 2014, more than 40 of our owned and long-leased parking facilities were connected to a parking route information system (PRIS).
We are currently working on building a data warehouse in which we will maintain all the information about all our parking facilities in the ten countries. We can then integrate this information with parking route information systems and in-car navigation systems. This will enable us to indicate even more accurately which car parks have vacant spaces and what the parking tariffs are. This way, we are helping to reduce the amount of traffic cruising for a place to park in city centres.
Parking management: information and location
Karel Brouns, advisor to the executive board
"Parking management systems contribute considerably to the sustainability of the built environment. Much traffic nuisance in inner-city areas is caused by motorists looking for a parking space. Good information and on-street signage helps to considerably reduce traffic cruising for a place to park and thus also reduces emissions. We try to make agreements with municipalities about traffic guidance systems. We have developed apps in which motorists can see immediately which car parks have vacant spaces. Soon, it will be possible to reserve a parking space in all Q-Park countries. Our parking locations also have an important role to play: we have car parks at traffic nodes and Park+Ride locations and we manage almost all the Park+Ride sites at train stations in the Netherlands. So you see, we are trying to positively influence mobility trends in various ways."