Accounting framework
Q-Park takes the development of CSR reporting very seriously. During the past few years we have made a considerable effort to take our reporting to a higher level. This has been fruitful: our 2013 CSR report achieved 19th place on the Transparency benchmark. We see this as proof of the fact that we apply the Reporting principles well. It also shows that we manage the process correctly in order to produce a correct, complete, balanced and accessible report.
Material issues
Since 2013 we apply the G4 guidelines published by the Global Reporting Initiative (GRI). G4 places the materiality principle centre stage. This helps us to focus more intensely on our reporting. The 2013 report was prepared in the spirit of G4. To fully comply with the G4 requirements, in 2014 we have conducted a more comprehensive external materiality analysis. The outcome did not prompt us to adjust the topics we cover (see also Materiality). However, we have adjusted the structure of our own set of PIs so that they better correspond to the structure customarily applied by GRI. As a result, there is more consistency in the information for the reader, and for ourselves.
Reporting process
At the end of each reporting year the Holding requests the CSR data. Using a specially developed and standardised data collection tool, the countries can gather their data and check it before sending it on to the Holding where it is subsequently consolidated and evaluated. The reporting process is standardised and the structure of the data requested can easily be checked for completeness and reliability. The whole process has already been prepared for future external verification.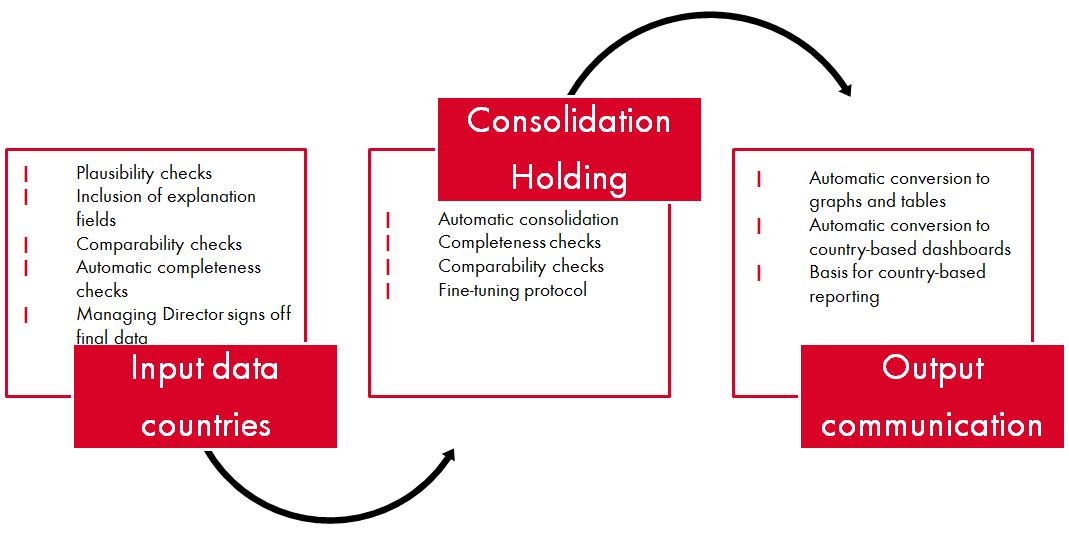 External verification
External verification increases the confidence stakeholders have in our accountability. It has a disciplinary effect on our internal organisation, but it also entails extra costs. Furthermore, it is essential that we are confident that we have the right evidence, which in itself places certain demands on an organisation of our size. In Q-Park's current phase, the executive board wishes to focus on developing the company and our positioning in the market, and that requires our full attention. As from this financial year, the executive board has therefore decided not to apply for external assurance over the year 2014. We will, of course, continue to structure our reporting in accordance with the quality standards that stakeholders expect from us.
Working towards an integrated annual report
We still intend to publish an integrated annual report in 2018. Drawing up an integrated report will be more efficient and more effective. A clear message strengthens our business model and gives us better insight into the direct and indirect results, as well as the financial and non-financial results.
For this reason, we have already transposed our business model into a graphical format. You can see all our activities at a glance; it clearly shows the relationship between the financial and non-financial aspects. All material topics are included: our input, the services we provide, our customers, and the results of our efforts. More detailed information can be found about these topics in our annual reports.
Online reporting
Digitisation is not only important in our primary processes, more and more communication takes place online. For this reason, we now only publish our annual reports online. In our reports we also refer to all information which can be found on our corporate website.
Performance dashboard
In order to gather and compare international data, we provide the country organisations with a specified dashboard for CSR. In this, the managing directors can indicate for which PIs they wish to see the results annually. We have also created a group dashboard for the countries which shows the most requested indicators. This enables them conduct their own CSR activities with greater focus and to compare results with each other.