CSR governance
Responsibility for the CSR policy and its implementation lies with the executive board. The supervisory board governance committee makes recommendations on CSR issues. Q-Park has a CSR committee that make recommendations to the executive board concerning the CSR policy, including stakeholder involvement. The CEO chairs this committee.
The CSR manager is responsible for the process of gathering consistent and accurate data on time for the accountability of the policy. The CSR manager, the CEO and the corporate marketing director together form the CSR steering team.
The CSR management team bears final responsibility for systematically gathering, consolidating, calculating and evaluating data. By providing interactive feedback to the countries and business units, the team generates greater understanding of the (PIs) and greater involvement to improve the performance.
The CEO and the directors of the country organisations are responsible for the result-oriented execution of the policy.
Q-Park has established a CSR steering committee to better integrate the CSR policy, to discuss new steps and to monitor the data gathering for the external reporting. In order to involve the various regions and departments, we have adjusted the composition of the steering committee. This now consists of the CSR management team, the marketing and HRM managers, a managing director, a financial controller and a customer service employee.
The CSR committee endorses the principles of corporate governance with proper supervision and transparent reporting. The duties and responsibilities of executive directors, supervisory board members and shareholders are carefully defined in the Q-Park Governance Code. The rules applied by the legislator applicable to two-tier board companies are anchored in the articles of association.
The CSR committee endorses a number of other major codes including the Q-Park Code of Ethics, the OECD & UNGC Code and the Business Partner Code. For a complete overview for our codes and standards please refer to our Corporate Codes.
The CSR committee also applies the following control methods: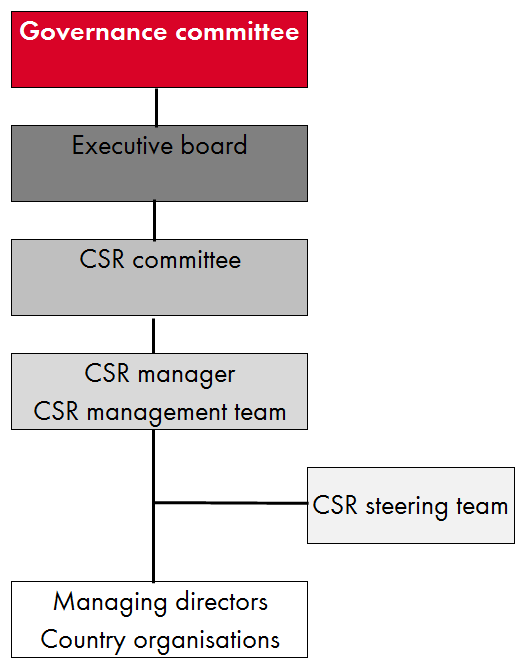 CSR results in remuneration policy
In 2013, Q-Park adjusted the remuneration policy for country directors and executive directors. Until now, bonuses depended mainly on financial goals and shareholder value. Their appraisal is now based on a balanced scorecard to which CSR performance indicators were added, counting for 20 per cent. With this we want to emphasise the fact that Q-Park considers sustainable results to be important and to ensure that sustainability risks receive sufficient attention. Important criteria for determining the 20 per cent CSR performance:
Timing
Completeness
Verifiability
Ambition level
The CSR vision as we have defined it forms an integral part of our strategy and our core activities. We manage the organisation based on a balanced scorecard, which also includes the non-financial aspects, and this is linked to the remuneration policy. In this way, we ensure the management of both financial and non-financial performance which is important for the realisation of our strategic objectives. The remuneration system has been approved by the executive board and supervisory board.