Economy
Objective
Be part of a local mobility policy, to deploy paid parking to improve the accessibility, and quality of life in cities and to distribute the cost of parking more fairly.
What we want to achieve
Advise municipalities on an integral mobility policy
Q-Park is in favour of fair parking tariffs which contribute to the quality of life in urban areas. It is in the interest of municipalities as well as Q-Park to tune parking tariffs for different parking facilities and distances, such as parking on the street or in car parks, and in the city centre or at the outskirts of the city. By engaging municipalities in dialogue on this matter, we want to use our expertise to make a contribution to the sustainability of cities.
The system of pricing rings, where the inner ring – the city centre – is the most expensive and the rings towards the outskirts of the city are cheaper, appears to be effective. Maastricht introduced this system at the beginning of 2014. From an evaluation conducted by the municipality, it transpires that the desired shift of parking to the outskirts of the city has occurred. Compared to 2013, 9 per cent fewer people parked in the Vrijthof city centre car park. In the outskirts, parking increased by 15 per cent1.
We offer our employees a training course about parking tariffs to help them understand this complicated issue. Our recommendations are designed to help officials establish a differentiated pricing policy which will influence motorists' behaviour. We actively seek collaboration with municipalities to implement a Total City Concept for parking.
Offer mobility options
Q-Park wants to play a role in people's mobility options. We offer parking facilities for cars and bicycles at public transport nodes. We endeavour to raise awareness and influence people's behaviour. We provide online information about the availability of vacant parking spaces and the parking tariff. We do this via our website or the Q-Park app, but also by feeding navigation systems with up-to-date information.
Always ample parking spaces
It may sound paradoxical that Q-Park wants to prevent its car parks from becoming full. However, that is the case. We want motorists to be able to find a parking space quickly and easily at all times. If a car park is full, this means lost time and more traffic looking for a place to park. This creates more congestion on the streets and increases emissions of pollutants. Through location-specific price variations, dynamic pricing strategies and information signs, we can guide motorists quickly and easily to a vacant parking space.
432

(2013: 426) PFs with differentiated pricing strategy
PFs FULL for more than 25 days

119

(2013: 144)
PFs in target cities with a Total City Concept

44

(2013: 43)
96,976

(2013: 80,919) Parking spaces near bicycle parking
PFs with dynamic information

209

(2013: 169)
PFs with alternative mobility options

242

(2013: 191)
What we have achieved
Differentiated pricing strategy
The number of parking facilities with a differentiated pricing strategy remained more or less equal to the previous year. This is probably related to the number of target cities where we have implemented an integral mobility policy with the municipality and other partners, the so-called Total City Concept. In France, that number rose by two. However, we have left a city in Finland. Our goal to have 49 target cities with this concept by 2017 is still feasible.
The number of training courses given on pricing strategy rose, particularly in the Netherlands, France and Great Britain. In Ireland we introduced a new form of parking tariff: Two Tier pricing. One aspect of this is that parking on the top floor of a multi-storey car park is cheaper. France introduced a campaign encouraging customers to buy a season ticket for two months, by giving them two months extra free parking. We are testing many different pricing strategies and we closely monitor the effects on occupancy levels and the financial result.
More alternatives and improved information
Almost 13,000 new parking spaces were created at public transport nodes in 2014. In addition, we have created some 6,000 extra parking spaces in the vicinity of bicycle parking. With this we have more than achieved both targets (respectively 113,191 and 96,976). The number of car parks that were full on more than 25 days decreased significantly in 2014. That is a good sign. As a result, it was easier and faster for customers to find a place to park.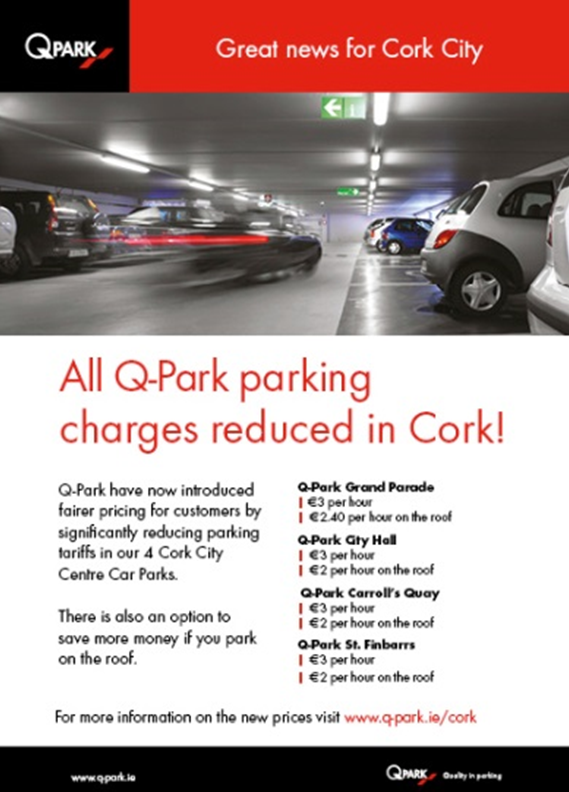 Perhaps these results are related to the increasing number of parking facilities that provide dynamic information. The trend is moving in the right direction in France, in particular, with an extra 29 parking facilities providing dynamic information. The online reservation system Resa is also a boost. In Belgium, six parking facilities also adopted this system. But progress is not being made as quickly as we would like, because for this we are highly dependent on third parties.
There was a greater increase in the number of parking facilities that can provide information about alternative locations or mobility options, that number increased by 51. Again, France took the lead with 24 extra facilities. But the Danish Odense was also able to integrate car parks with the city route information system. In various cities in Great Britain, clear signage has been introduced to direct motorists to alternative Q-Park car parks at times when one of the facilities is full.
Ward Vleugels Q-Park Thesis prize 2014
The Ward Vleugels Q-Park Thesis prize 2014 was introduced on the retirement of Ward Vleugels as CEO of Q-Park. The prize is intended to encourage fundamental research into mobility and parking, and to make this research accessible to the parking industry. The thesis should combine new insights with existing principles. The prize is open to Masters' theses from all universities in the Netherlands and Belgium. This year there were 11 entries. The theses are assessed based on academic and socio-economic relevance and on their added value. The assessment committee consisted of academics and parking experts. The academic committee concerned determines the academic level, while a parking industry jury selects the three winners based on social relevance.
The first award was presented to Alexander Hoss for his thesis entitled 'On the effectiveness of downsizing: new evidence from the service industry'. His argument is about paying for smaller units instead of the normal increase in parking tariffs.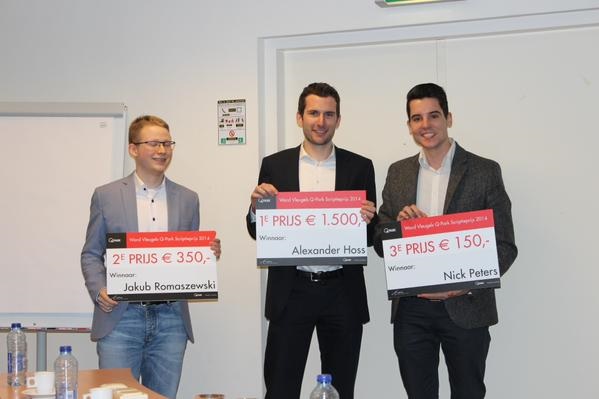 Source: http://www.maastrichtbereikbaar.nl/